I received this book for free from in exchange for an honest review. This does not affect my opinion of the book or the content of my review.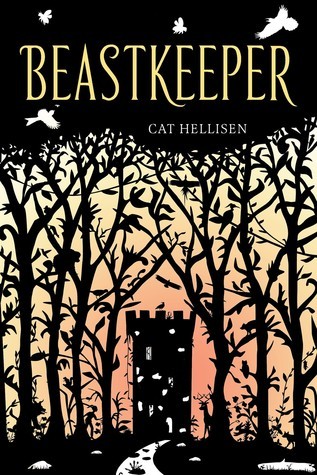 Beastkeeper
by
Cat Hellisen
Published by
Macmillan
on February 3rd 2015
Pages:
208
Buy on Amazon
Goodreads
Sarah has always been on the move. Her mother hates the cold, so every few months her parents pack their bags and drag her off after the sun. She's grown up lonely and longing for magic. She doesn't know that it's magic her parents are running from.

When Sarah's mother walks out on their family, all the strange old magic they have tried to hide from comes rising into their mundane world. Her father begins to change into something wild and beastly, but before his transformation is complete, he takes Sarah to her grandparents—people she has never met, didn't even know were still alive.

Deep in the forest, in a crumbling ruin of a castle, Sarah begins to untangle the layers of curses affecting her family bloodlines, until she discovers that the curse has carried over to her, too. The day she falls in love for the first time, Sarah will transform into a beast . . . unless she can figure out a way to break the curse forever.
When Sarah's mother leaves, her father packs her up and ships her off to stay with her grandmother. Unsure of the reason, she puts up a fuss and tries to reason that her mother will be back. Left at her grandmother's, she finds that there is a family curse, one that turns those descended from their blood into wolves when they fall in love. Sarah must find a way to break the curse so she can have her family back.
A retelling of Beauty and the Beast, I found Beastkeeper to be an enchanting novel about a young girl who just wants her family back. There's a glimmer of her own romance, something sweet and innocent, along with the harsh reality of how this curse has changed her whole family for the worse.
I loved that this follows a role reversal for the original tale, transforming Sarah into the beast that usually is kept for male roles. She's a strong character and keeps her family at the forefront of her mind, even when she falls in love and becomes a beast herself. Sarah's determination remains strong, even when she fails and I really enjoyed seeing a character that kept at it, through the thick of it all.
I loved the magical feel of the writing and the setting was gorgeous, dark when need be and enchanting at the same time. Hellisen blends together a world that at first seems more magical realism and stretches the imagination, pushing her main character into a world that is dark and swirling with its own magic.
Verdict:
A strong retelling, with enough twists from the original to give it a fresh voice and a new audience.