I received this book for free from in exchange for an honest review. This does not affect my opinion of the book or the content of my review.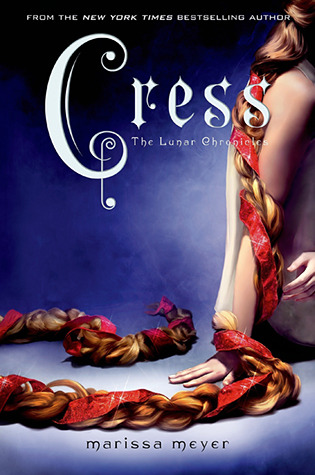 Cress
by
Marissa Meyer
Series:
The Lunar Chronicles #3
Published by
Feiwel & Friends
on February 4th 2014
Pages:
550
Buy on Amazon
Goodreads
In this third book in the Lunar Chronicles, Cinder and Captain Thorne are fugitives on the run, now with Scarlet and Wolf in tow. Together, they're plotting to overthrow Queen Levana and her army.

Their best hope lies with Cress, a girl imprisoned on a satellite since childhood who's only ever had her netscreens as company. All that screen time has made Cress an excellent hacker. Unfortunately, she's just received orders from Levana to track down Cinder and her handsome accomplice.

When a daring rescue of Cress goes awry, the group is separated. Cress finally has her freedom, but it comes at a high price. Meanwhile, Queen Levana will let nothing prevent her marriage to Emperor Kai. Cress, Scarlet, and Cinder may not have signed up to save the world, but they may be the only hope the world has.
Cress takes place right where the previous book left off. I love the way this series is starting to spin off into many different story arcs with more new and interesting characters with each book. Cress is the Rapunzel of space, living in a satellite and her task is to find Cinder, only she wants to find Cinder so she can be rescued, not to reveal her location. Cinder, Captain Thorne, Scarlet and Wolf are together at the start of the book, until the rescue mission to Cress goes wrong when Sybil, the thaumaturge who Cress reports to shows up unexpectedly.
The group is separated, Cress and Captain Thorne plummeting down to the Earth and surviving but not without complications, leaving Thorne to rely on Cress more than he would like to admit. A budding romance sparks between the two, but Cress knows she must seem strange and odd to Thorne. Their adventure on Earth was one of my favorite parts of the book, as they get to know each other better and some exciting things happen.
Scarlet is taken early on in the book, making Wolf go wild and uncontrollable, not to mention hurt enough in the scuffle at the beginning of the book to warrant worry on his health. Cinder takes him to see the doctor that also has his own plot in this book and plays a larger role. There is also a good portion of the book from Emperor Kai's point of view in this book as his marriage to Queen Levana approaches.
One of my favorite parts of the book was getting a glimpse into Luna as Scarlet is being held there. Princess Winter is an interesting character and I'll be interested to see what role she plays later on. My only complaint is that after reading Cress, I have to wait many months for the next book in the series. The series is no where close to being wrapped up and I cannot wait to read more.
Verdict:
An awesome twist on fairy tales, a series you won't want to miss.