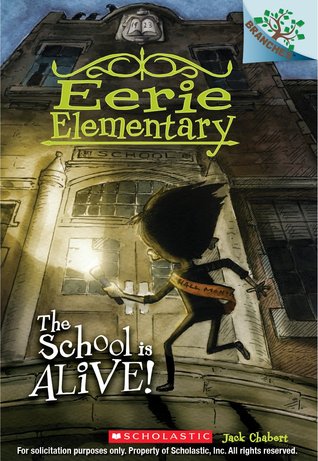 The School Is Alive!
by
Jack Chabert
Series:
Eerie Elementary #1
Published by
Scholastic Paperbacks
on June 24th 2014
Pages:
96
Buy on Amazon
Goodreads
Eerie Elementary is one scary school!

This series is part of Scholastic's early chapter book line called Branches, which is aimed at newly independent readers. With easy-to-read text, high-interest content, fast-paced plots, and illustrations on every page, these books will boost reading confidence and stamina. Branches books help readers grow!

In this first book in the series, Sam Graves discovers that his elementary school is ALIVE! Sam finds this out on his first day as the school hall monitor. Sam must defend himself and his fellow students against the evil school! Is Sam up to the challenge? He'll find out soon enough: the class play is just around the corner. Sam teams up with friends Lucy and Antonio to stop this scary school before it's too late!
Eerie Elementary is the first in a series of beginning chapter books that combines the spooky with adventure and humor, making it a great sell for young readers. Sam has been selected to be the hall monitor, a job he is not looking forward to. When the school starts to actually attack him, he finds out he's not the average hall monitor and must protect his classmates from the evil that lies in the walls of his school.
With the help of his mentor, a janitor who was the last hall monitor to protect the school from itself, he must figure out a way to fight the evil. His friends at first think he's crazy until they see the school act up and then they are more than willing to help Sam out. I thought this was a great first book and had all the elements that my students love in 2nd/3rd grade. A little bit spooky, a little bit funny and jam packed with action, I'm sure I'll have trouble keeping this new series on my library shelves.
Also, the illustrations in this book are really well drawn and I love the way situations play out in the drawn scenes. The quicksand is a favorite scene of mine.
Verdict:
Get ready for a spooky adventure full of laughs and action. A series your beginning chapter book readers will not want to miss.