I received this book for free from in exchange for an honest review. This does not affect my opinion of the book or the content of my review.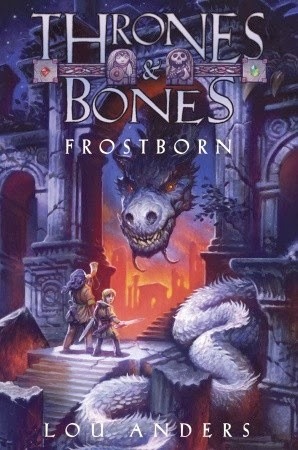 Frostborn
by
Lou Anders
Series:
Thrones & Bones #1
Published by
Random House Children's Books
on August 5th 2014
Pages:
320
Buy on Amazon
Goodreads
Fantasy fans of Rick Riordan's Percy Jackson and John Flanagan's Ranger's Apprentice series will embrace this first novel in an adventure-filled, Viking-inspired series by a debut author.

Meet Karn. He is destined to take over the family farm in Norrøngard. His only problem? He'd rather be playing the board game Thrones and Bones.

Enter Thianna. Half human, half frost giantess. She's too tall to blend in with other humans but too short to be taken seriously as a giant.

When family intrigues force Karn and Thianna to flee into the wilderness, they have to keep their sense of humor and their wits about them. But survival can be challenging when you're being chased by a 1,500-year-old dragon, Helltoppr the undead warrior and his undead minions, an evil uncle, wyverns, and an assortment of trolls and giants.

Readers will embark on a sweeping epic fantasy as they join Karn and Thianna on a voyage of discovery. Antics and hair-raising escapades abound in this fantasy adventure as the two forge a friendship and journey to unknown territory. Their plan: to save their families from harm.

Debut novelist Lou Anders has created a rich world of over twenty-five countries inhabited by Karn, Thianna, and an array of fantastical creatures, as well as the Thrones and Bones board game.
Frostborn captured my attention, what's not to like – frost giants, dragons, and a character who is obsessed with a specific board game. There's something about middle grade fiction that is so satisfying. It's not just about the adventure and action, but there's always deeper meanings. Thianna is a female frost giant, but she is also half human, therefore she always feels inadequate and trying to prove that she is a frost giant. She's bullied and often gets in and out of fights, but her father knows her destiny will take her beyond her own village. It's on a trip to trade with the humans that she meets Karn, a boy who should be learning to haggle and take over his father's prestigious farm, but all he wants to do is play Thrones & Bones, a board game with strategy and intelligence required to win.
When his uncle sets a trap that has Karn about to fight for his life, his father steps in, and loses, throwing Karn on the run. Thianna's mother's past has caught up to her, 3 women on wyverns are after a special horn her mother carried with her when she crashed years ago in the frost giant's valley. Long since passed, Thianna carries the horn and finds herself fleeing from the women for a reason she is unsure of. The pair meet up again and aide each other to hide from their pursuers and gain a close friendship. Together, they must trick a dragon, flee their pursuers all while trying to figure out how to set things right.
I love their friendship as it grows, they often tease each other and have a few fights over words said that were taken too seriously. I love that Thianna is constantly saving Karn, who is not as well trained in any weapons or strength, but is the brighter of the two. Karn uses his intelligence to save them as often as Thianna saves them physically. The plot moved along quickly as they were often in peril and on the run. It was a little easy to predict at times and I didn't particularly like the way it ended, with a bit of foreshadowing into the next book.
Verdict:
The first book in a new adventure series with unique characters and strong fantasy elements.