I received this book for free from in exchange for an honest review. This does not affect my opinion of the book or the content of my review.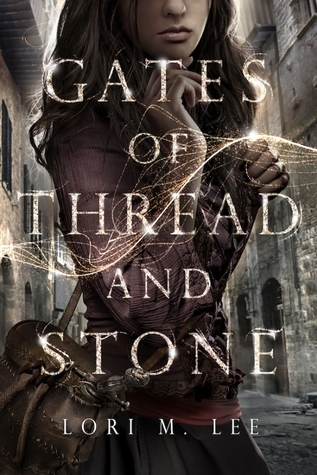 Gates of Thread and Stone
by
Lori M. Lee
Series:
Gates of Thread and Stone #1
Published by
Skyscape
on August 5th 2014
Buy on Amazon
Goodreads
In the Labyrinth, we had a saying: keep silent, keep still, keep safe.

In a city of walls and secrets, where only one man is supposed to possess magic, seventeen-year-old Kai struggles to keep hidden her own secret—she can manipulate the threads of time. When Kai was eight, she was found by Reev on the riverbank, and her "brother" has taken care of her ever since. Kai doesn't know where her ability comes from—or where she came from. All that matters is that she and Reev stay together, and maybe one day move out of the freight container they call home, away from the metal walls of the Labyrinth. Kai's only friend is Avan, the shopkeeper's son with the scandalous reputation that both frightens and intrigues her.

Then Reev disappears. When keeping silent and safe means losing him forever, Kai vows to do whatever it takes to find him. She will leave the only home she's ever known and risk getting caught up in a revolution centuries in the making. But to save Reev, Kai must unravel the threads of her past and face shocking truths about her brother, her friendship with Avan, and her unique power.
Kristen: Let's talk about setting to start off with because I found that Gates of Thread and Stone had an interesting one. I feel that it is a setting we will see more of, the medieval feel with magic and technology intertwined.
Kate: I agree, the setting was an interesting one. But to me, the setting felt more like it was post- apocalyptic. Only, it was so far in the future that the people in Gates of Thread and Stone have no true understanding of what it was like before. This is the new type setting I feel like I am seeing a lot more of. But all the hints are there. In Gates of Thread and Stone, the hint for me was so subtle. You blink and you would have missed. Kai is having a conversation, but in the background is this object. It is only mentioned in passing, but for me, I was like "I know what that is!"
Kristen: Yea, I saw that too.
Kristen: What I liked about the book was that I didn't feel like it was an information dump. I felt like the book wanted us to focus more on the story than get too involved in the setting beyond basics.
Kate: Right, but it was just a little weird for me. I never felt like I got a real handle on all of it. I found myself having a hard time sometimes trying to move past the lack of setting definition once the Gods stuff came fully into play. It was like we started off with the setting being one way, but then it all started to shift. Making me question everything I had understood to that point. Which is the real setting, before the shift or after?
Kristen: I'm not sure how I felt about the God stuff; I felt it turned the novel into something different than the original set up.
Kate: Exactly. However, I found myself liking that little twist. It was a little unexpected, which was nice. But then again I found that I was also asking myself, just what did I get into?
Kristen: The twist made for some interesting new characters though. I like the inhumanity of the different characters that were these gods. How did you feel about our main characters though?
Kate: I still think Kai would have been better as a boy. Starting Gates of Thread and Stone was a little weird for me cause for most of the first chapter or so, I had totally forgotten that Kai was suppose to be a girl. And her character, early on, came across boy to me.
Kristen: That definitely would have made things interesting and she still could have fallen for Avan even as a boy. I did like that Avan was bisexual, which made things interesting. Also, even though you might like Kai better if she had been a boy, it is nice to see a girl character that keeps her eye on the prize and wasn't completely distracted by her love interest.
Kate: I liked that. But I didn't like Avan as a love interest or really in general. He had his moments, but overall, I found him kinda blah.
Kristen: I felt like Avan was willing to do a lot for Kai, which didn't make sense until a lot later, when we got a fuller grasp of their background. Did you think there was a start of a love triangle with G-10?
Kate: It's possible and I liked him more. Overall, I wasn't really a fan of the romance in Gates of Thread and Stone. It worked, don't get me wrong. However, it also felt like it was just there to be there. I think Gates of Thread and Stone would have worked perfectly without a romance.
Kristen: The romance felt lusty rather than serious. Anything else you want to discuss?
Kate: The ending….I didn't like it.
Kristen: I didn't either. But let's leave it at that, no spoilers for future readers.
Kate: Will you read the next one?
Kristen: I think I will, I liked the characters and world enough and felt it moved along at a nice pace.
Kate: I had a few issues with it but I liked it enough to at least try the sequel.
Join in on the conversation. Have you read Gates of Thread and Stone? What are your thoughts?