I received this book for free from in exchange for an honest review. This does not affect my opinion of the book or the content of my review.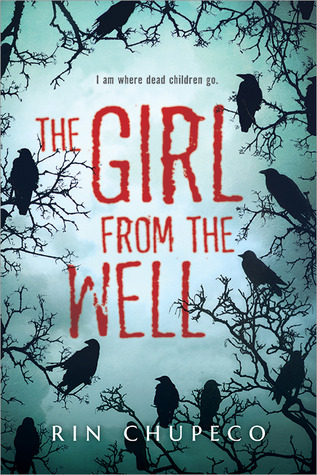 The Girl from the Well
by
Rin Chupeco
Published by
Sourcebooks, Inc.
on August 5th 2014
Pages:
304
Buy on Amazon
Goodreads
You may think me biased, being murdered myself. But my state of being has nothing to do with the curiosity toward my own species, if we can be called such. We do not go gentle, as your poet encourages, into that good night.

A dead girl walks the streets.

She hunts murderers. Child killers, much like the man who threw her body down a well three hundred years ago.

And when a strange boy bearing stranger tattoos moves into the neighborhood so, she discovers, does something else. And soon both will be drawn into the world of eerie doll rituals and dark Shinto exorcisms that will take them from American suburbia to the remote valleys and shrines of Aomori, Japan.

Because the boy has a terrifying secret - one that would just kill to get out.

The Girl from the Well is A YA Horror novel pitched as "Dexter" meets "The Grudge", based on a well-loved Japanese ghost story.
I started The Girl from the Well late at night, home alone and I thoroughly could not put it down. I loved the creepy, horrific vibe it gave off from page one. Some readers may be put off by Okiku's need to count everything, but I thought it flowed into the story seamlessly and it wasn't an unnecessary quirk, as you later find out when her legend is revealed. Another thing that you might nitpick is sometimes the story bounces a bit to other characters, which may translate a little better in the finished copy. I would sometimes have to retrace a bit, but overall I was so engaged, this factor did not really bug me at all.
Okiku is rather frightening, but is only interested in harming those who would harm children. One day she notices Tark, a boy who hides his tattoos, ones that others have thought they saw move. His mother has tried to kill him several times and is locked away in a mental institution, so Tark has just moved to a new town, closer to his cousin Callie. Callie is a teacher's aide and looking at taking a month off to study in another country. One of her students, Sandra, comments on the woman that is attached to Tark, a dark lady with a white mask, as well as Okiku who spends time in between seeking vengeance as child-killers to follow Tark around.
Sandra easily becomes a character that I love to see more as the book goes on. At one point, she is talking to a man while she sits on a bench and asks him why there are two boys on his back. He's just about to chloroform and make off with her when her mother comes looking for her. There are so many disturbing scenes in this book it's hard to get into all of them. I love watching Okiku seek revenge on those who have killed, it was frightening and often times left quite the mess of a person.
A horrible situation leads all of them to Japan, to spread the ashes of Tark's mother at a shrine that no one has heard of. Tark is sickening and his father is still trying to manage his job while trying to seek him help, the thing attached to him literally sucking his life away. Callie's time with her learning group ends and the trio make it to the shrine, where it gets even creepier at times and we get to the root of Tark's problem.
Overall, I could not put this book down. I read half of it before bed and when I woke up the next morning I had to finish it. The characters had depth and I loved the creepy vibe of the book. The scenes were written beautifully, describing the insane hauntings and murders that Okiku commits and should have given me bad dreams. I seem adverse to bad dreams, but it was rather hard getting up in a dark house to use the bathroom after reading this book.
Verdict:
A creepy story that includes quite an intriguing plot with interesting characters and legends.
Rin Chupeco: Despite uncanny resemblances to Japanese revenants, Rin Chupeco has always maintained her sense of humor. Raised in Manila, Philippines, she keeps four pets: a dog, two birds, and a husband. She's been a technical writer and travel blogger, but now makes things up for a living. The Girl from the Well is her debut novel. Connect with Rin at www.rinchupeco.com.
One US/Canada resident will win a copy of The Girl from the Well.
Ends August 29th.