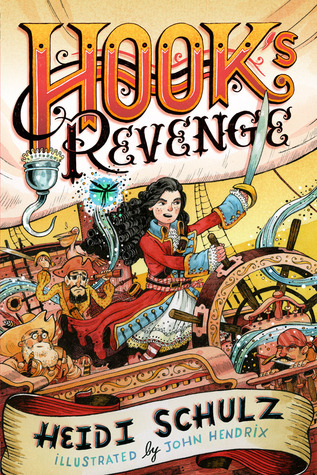 Hook's Revenge
by
Heidi Schulz
Series:
Hook's Revenge #1
Published by
Disney Hyperion
on September 16th 2014
Pages:
304
Buy on Amazon
Goodreads
Captain Hook's feisty daughter hits the high seas to avenge her father's death at the jaws of the Neverland crocodile in Heidi Schulz's spirited middle-grade debut.

Twelve-year-old Jocelyn dreams of becoming every bit as daring as her infamous father, Captain James Hook. Her grandfather, on the other hand, intends to see her starched and pressed into a fine society lady. When she's sent to Miss Eliza Crumb-Biddlecomb's Finishing School for Young Ladies, Jocelyn's hopes of following in her father's fearsome footsteps are lost in a heap of dance lessons, white gloves, and way too much pink.

So when Jocelyn receives a letter from her father challenging her to avenge his untimely demise at the jaws of the Neverland crocodile, she doesn't hesitate-here at last is the adventure she has been waiting for. But Jocelyn finds that being a pirate is a bit more difficult than she'd bargained for. As if attempting to defeat the Neverland's most fearsome beast isn't enough to deal with, she's tasked with captaining a crew of woefully untrained pirates, outwitting cannibals wild for English cuisine, and rescuing her best friend from a certain pack of lost children, not to mention that pesky Peter Pan who keeps barging in uninvited.

The crocodile's clock is always ticking in Heidi Schulz's debut novel, a story told by an irascible narrator who is both dazzlingly witty and sharp as a sword. Will Jocelyn find the courage to beat the incessant monster before time runs out?
Hook's Revenge is the story of Hook's daughter Jocelyn, who dreams of nothing but adventure and becoming as infamous as her father, the fearsome Captain Hook. Unfortunately, her grandfather feels she ought to learn to become a lady and sends her off to finishing school. While the school brings new challenges and a new friend, Jocelyn is constantly in trouble. She receives a letter from her father, who claims his untimely demise. Jocelyn cannot resist the pull of adventure and after her friend is forced to leave the school, she sees nothing tying her to the school. Setting off for Neverland, she finds herself meeting up with her father's old crew.
I especially love the very loyal character of Smee, who really is a reliable character and reminds me quite a bit of the Disney version, only less over the top. Unfortunately, it's rather hard to get a crew together when the captain of the crew is a girl, so Jocelyn ends up with a ragtag, wannabe pirate crew. There is actually a character who pretends to be missing a bodypart to feel more "pirate" like. In fact, when he loses a body part later on in the story, he is ecstatic to have done so and become a true pirate!
What I really felt that was well done in this book, was Jocelyn's character. She's definitely made of tough stuff, but still with flaws. I love her determination in completing her father's will after death. I also like that she's not ruthless, but still a girl, a tough one, but still with morals and beliefs that are a bit different from a true pirate's. I also liked a look at the other characters on Neverland as Jocelyn encounters them. Her friend Roger from the finishing school ends up as one of the lost boys and there's an emotional tie-in to their friendship as she tries to get him to remember their past together. There's cannibals, mermaids, and snotty little boys included as well. I really loved the length and adventures packed into this book. The only thing I'm getting a little tired of is the intrusive narrator. I didn't feel like it was necessary to the story at all.
Verdict:
A strong female lead and lots of adventure, definitely a winning read in my opinion.