I received this book for free from in exchange for an honest review. This does not affect my opinion of the book or the content of my review.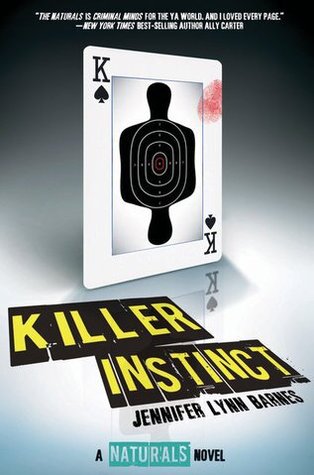 Killer Instinct
by
Jennifer Lynn Barnes
Series:
The Naturals #2
Published by
Disney-Hyperion
on November 6th 2014
Pages:
352
Buy on Amazon
Goodreads
Seventeen-year-old Cassie Hobbes has a gift for profiling people. Her talent has landed her a spot in an elite FBI program for teens with innate crime-solving abilities, and into some harrowing situations. After barely escaping a confrontation with an unbalanced killer obsessed with her mother's murder, Cassie hopes she and the rest of the team can stick to solving cold cases from a distance.

But when victims of a brutal new serial killer start turning up, the Naturals are pulled into an active case that strikes too close to home: the killer is a perfect copycat of Dean's incarcerated father—a man he'd do anything to forget. Forced deeper into a murderer's psyche than ever before, will the Naturals be able to outsmart the enigmatic killer's brutal mind games before this copycat twists them into his web for good?

With her trademark wit, brilliant plotting, and twists that no one will see coming, Jennifer Lynn Barnes will keep readers on the edge of their seats (and looking over their shoulders) as they race through the pages of this thrilling novel.
Killer Instict is the second book in The Naturals series, following Cassie, a girl who can profile people with ease. Part of a group of teenagers that the FBI has found and gathered together, she helps solve different crimes, especially those involving serial killers. Her own past with her mother disappearing via a serial killer brings the topic close at hand. Killer Instinct involves a copycat serial killer, one that is copying Dean's father. Dean is one of Cassie's love interests, who pushes back on her interest in him because he struggles with who he is. Worried he could turn out to be like his father, he distances himself from most of the other teens in the group.
Michael is Cassie's other love interest. He's a bit cockier and has his own history. Cassie is constantly trying to ignore having to choose between the two boys, feeling like she shouldn't have the time to have such a dilemma when trying to find serial killers. I love when Cassie outright feels upset and pissed off that she has to deal with personal problems when all she wants to do is her job. Lia and Sloane also play a big part in this book and I love them as well, both of the girls having their own loud personalities that are unique.
I love how layered Killer Instinct is, the twists it takes and the really frightening plot points. When serial killers are involved, there really is no way around being able to stop every death. It's like a train wreck you can't look away from. I'm hoping the series will continue on because I cannot seem to get enough of Barnes' writing.
Verdict:
An exciting addition to the Naturals series, full of intrigue, plot twists and solving the mystery in a thrilling way.