I received this book for free from in exchange for an honest review. This does not affect my opinion of the book or the content of my review.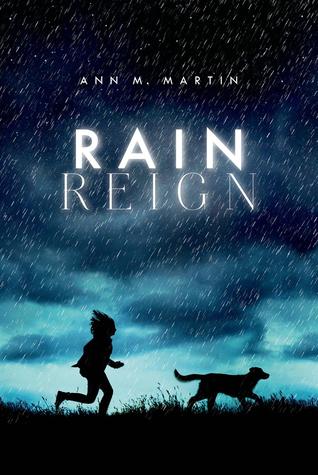 Rain Reign
by
Ann M. Martin
Published by
Macmillan
on 2014-10-07
Pages:
240
Buy on Amazon
Goodreads
Rose Howard is obsessed with homonyms. She's thrilled that her own name is a homonym, and she purposely gave her dog Rain a name with two homonyms (Reign, Rein), which, according to Rose's rules of homonyms, is very special. Not everyone understands Rose's obsessions, her rules, and the other things that make her different – not her teachers, not other kids, and not her single father.

When a storm hits their rural town, rivers overflow, the roads are flooded, and Rain goes missing. Rose's father shouldn't have let Rain out. Now Rose has to find her dog, even if it means leaving her routines and safe places to search. Hearts will break and spirits will soar for this powerful story, brilliantly told from Rose's point of view.
Rain Reign is a powerful story of a girl named Rose who has no mother, a father who frequently leaves her alone to go the bar down the street, and Asperger's Syndrome to top it off. She's obsessed with finding new homonyms and the two good things in her life are her caring uncle and a dog that her father brings home one night and she names him Rain.
When tragedy strikes and a hurricane goes through their town, Rose wakes up to find Rain missing and her house surrounded by water. Worried, she comes up with a plan to find him, only when she does, she finds out something new about Rain that changes her life. I think teachers and anyone who knows someone with special needs would love this book. Rose's narration is superb and really dives into the brain of a child who suffers from OCD and Asberger's.
I fell in love with Rose and her quirks and felt for her as her father was quick to be angry and not a stable feature of Rose's life. Rain really is what keeps Rose together, along with her wonderful uncle. Rain Reign is definitely a story that hits you in the heart and keeps you reading for more, no matter how tragic and horrible it seems at times.
Verdict:
An emotional story about a girl and her dog and so much more. A must-read for everyone.