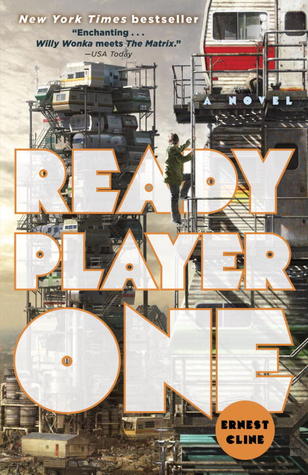 Ready Player One
by
Ernest Cline
Published by
Broadway Books
on August 6th 2011
Pages:
372
Buy on Amazon
Goodreads
It's the year 2044, and the real world is an ugly place.

Like most of humanity, Wade Watts escapes his grim surroundings by spending his waking hours jacked into the OASIS, a sprawling virtual utopia that lets you be anything you want to be, a place where you can live and play and fall in love on any of ten thousand planets.

And like most of humanity, Wade dreams of being the one to discover the ultimate lottery ticket that lies concealed within this virtual world. For somewhere inside this giant networked playground, OASIS creator James Halliday has hidden a series of fiendish puzzles that will yield massive fortune -- and remarkable power -- to whoever can unlock them.

For years, millions have struggled fruitlessly to attain this prize, knowing only that Halliday's riddles are based in the pop culture he loved -- that of the late twentieth century. And for years, millions have found in this quest another means of escape, retreating into happy, obsessive study of Halliday's icons. Like many of his contemporaries, Wade is as comfortable debating the finer points of John Hughes's oeuvre, playing Pac-Man, or reciting Devo lyrics as he is scrounging power to run his OASIS rig.

And then Wade stumbles upon the first puzzle.

Suddenly the whole world is watching, and thousands of competitors join the hunt -- among them certain powerful players who are willing to commit very real murder to beat Wade to this prize. Now the only way for Wade to survive and preserve everything he knows is to win. But to do so, he may have to leave behind his oh-so-perfect virtual existence and face up to life -- and love -- in the real world he's always been so desperate to escape.

A world at stake.
A quest for the ultimate prize.
Are you ready?
Ready Player One is honestly a book I hadn't heard of, until I was gifted it in a swap. I randomly picked it up when going downtown Chicago – I didn't want to bring a library book – and was on my way to the Beercade ironically enough. Wade is the protagonist of the book, he's a high school student who has a rough home life, his parents are both dead and his aunt and her multitude of boyfriends share part of a trailer. In order to login to OASIS, where he attends school, he hides in an abandoned van in a junkyard where he has everything he needs to hook into the virtual world.
Beyond that, Wade is a gunter, one of the many hunting for the creator's – Jim Halliday – idea of the ultimate lottery, a key to everything he owns. The only problem is that ever since he died and the quest unlocked, no one has gotten even close to figuring out the first clue. This scavenger hunt includes a lot of pop culture, including old gaming references and even old arcade games that Jim loved growing up. Wade has always been obsessed with the hunt, there's only one problem – he's too poor to leave the world his school is on to go anywhere to investigate. Yet he manages to be the first one to unlock the first gate, only he manages to also meet the girl he has had a cybercrush on for a while now and he can't help but give her a hint to help her out.
Thus begins the real adventure. Wade has to deal with the instant news that his avatar has unlocked the first Gate and cleared it. Now everyone wants to know who he really is. He finds sponsors willing to give him money and now he can really start to hunt. The only problem is there is a corporate group out there trying to spoil everything and they are after Wade.
I fell in love with Ready Player One, which had references to some things from my childhood and others a bit older. I love the budding romance, the mystery behind Jim Halliday himself and the action, even though most of it technically is in a virtual world. I even cried at the end of the book, I really loved how it ended and what message it sends to readers. Cline creates a world within a world that is so creative and imaginative I loved seeing the different places and games that Wade would have to play through to get further in the quest.
Verdict:
An amazing story, with science fiction elements but a human element that overrides everything.