I received this book for free from in exchange for an honest review. This does not affect my opinion of the book or the content of my review.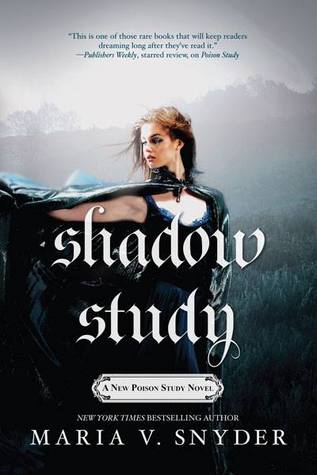 Shadow Study
by
Maria V. Snyder
Series:
Soulfinders #1
Published by
Mira
on February 24th 2015
Pages:
416
Buy on Amazon
Goodreads
New York Times bestselling author Maria V. Snyder wowed readers with Poison Study, the unforgettable story of poison taster Yelena. Now she's back with a new tale of intrigue.

Once, only her own life hung in the balance…

Oddly enough, when Yelena was a poison taster, her life was simpler. But she'd survived to become a vital part of the balance of power between rival countries Ixia and Sitia. Now she uses her magic to keep the peace in both lands—and protect her relationship with Valek.

Suddenly, though, they are beset on all sides by those vying for power through politics and intrigue. Valek's job and his life are in danger. As Yelena tries to uncover the scope of these plots, she faces a new challenge: her magic is blocked. She must keep that a secret—or her enemies will discover just how vulnerable she really is—while searching for who or what is responsible for neutralizing her powers.

Yes, the days of tasting poisons were much simpler. And certainly not as dangerous…
Shadow Study is another novel set in Snyder's beautiful and enchanting world. Revisiting the characters of Yelena and Valek, I was excited to dive in and start the adventure. For all of the charms of the world, I felt a bit disconnected at first and I think that stems from the varying perspectives. Instead of just having the plot from one viewpoint, it shows both of our characters. I understand why, the characters are separated for most of the book, but for some reason I felt a disconnect for a while due to where the view point stopped and the next one started.
Although the danger starts off rather quickly, I felt there was a slower start to this book. It took me about halfway through the book to really feel like I didn't want to put it down. I know that this is due to catching up to where they were before with a bit of backtracking and adding depth to the story. I kind of wish that instead this was just a book about Valek and his past, as I felt I was more interested in how he grew up. I think it would have been better to have maybe a separate book for him and his backstory, which I really enjoyed. Instead I found myself bogged down by the present plot, waiting to get more information about Valek and his storied past.
I love Janco and was glad that we also were able to get into his head a bit, although he wasn't as much as a main character, although I'm hoping more to come in the next books. Overall, I was pleased with this book, it wasn't perfect but it had everything I loved in it. And that cliffhanger though…. ah. I can't say but now I'm all aflutter again thinking about it. The next book cannot come soon enough.
Verdict:
For those who love Snyder's world, you must read this book. Everything a fantasy lover could want.