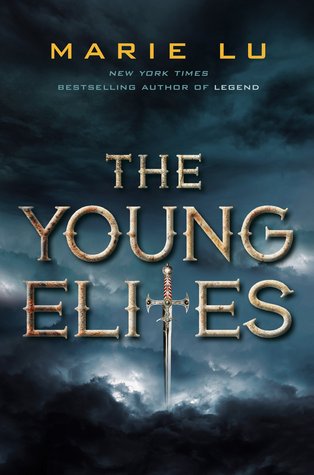 The Young Elites
by
Marie Lu
Series:
The Young Elites #1
Published by
Putnam Juvenile
on October 7th 2014
Pages:
355
Buy on Amazon
Goodreads
I am tired of being used, hurt, and cast aside.

Adelina Amouteru is a survivor of the blood fever. A decade ago, the deadly illness swept through her nation. Most of the infected perished, while many of the children who survived were left with strange markings. Adelina's black hair turned silver, her lashes went pale, and now she has only a jagged scar where her left eye once was. Her cruel father believes she is a malfetto, an abomination, ruining their family's good name and standing in the way of their fortune. But some of the fever's survivors are rumored to possess more than just scars—they are believed to have mysterious and powerful gifts, and though their identities remain secret, they have come to be called the Young Elites.

Teren Santoro works for the king. As Leader of the Inquisition Axis, it is his job to seek out the Young Elites, to destroy them before they destroy the nation. He believes the Young Elites to be dangerous and vengeful, but it's Teren who may possess the darkest secret of all.

Enzo Valenciano is a member of the Dagger Society. This secret sect of Young Elites seeks out others like them before the Inquisition Axis can. But when the Daggers find Adelina, they discover someone with powers like they've never seen.

Adelina wants to believe Enzo is on her side, and that Teren is the true enemy. But the lives of these three will collide in unexpected ways, as each fights a very different and personal battle. But of one thing they are all certain: Adelina has abilities that shouldn't belong in this world. A vengeful blackness in her heart. And a desire to destroy all who dare to cross her.

It is my turn to use. My turn to hurt.
Adelina has not had an easy upbringing. She lost her mother to a terrible plague and although she recovered, she was left without an eye and silver colored hair. When she discovers her father is about to sell her to a man to become his mistress, she decides to run away. Her father chases her down and she finds that she has a special power to create illusions, which causes her father's death and sentences her to hang for the crime. Her younger sister, who is perfect in every way, is the one who finds her and is shocked to realize that her sister is to hang. However, Adelina is saved by The Young Elites, a group of young adults who have special powers like her own. She starts to train with them, but they discover she has a darkness that made lead to her own demise.
Adelina is a complicated character. She does not want to be evil, but she has her own darkness in her from years of abuse from her father and it is easier to release her powers when she is enraged or fearing for her life. She falls for Enzo, the missing prince who also has his own powers and starts to train her individually. There's a lot of darkness in this book, so I feel fair in saying that Adelina has the best intentions but her passion and emotions cause some traumatic situations.
I ate up every minute of this book. I loved the dark setting, feeling a bit of old London with magic involved. Even our villains have their own history that unravels and purposes behind their behavior. I found it interesting that the person hunting them, Teren also has powers but punishes himself for being the way he is. His love for the queen rises above everything else and motivates him to find those that she wants eliminated. I'm really looking forward to seeing what happens in the next volume. There was so much going on in this book and such an ending that left me craving more.
Verdict: 
The Young Elites blew me away. I'm anxious to get my hands on the second book pronto!