Once again, I'm hosting a mini-challenge (Hour 19), reading and cheering for the Dewey's 24 Hour Readathon!
You can find me on Instagram and Twitter @bookgoil
Excited to be reading and here's my stack of books currently.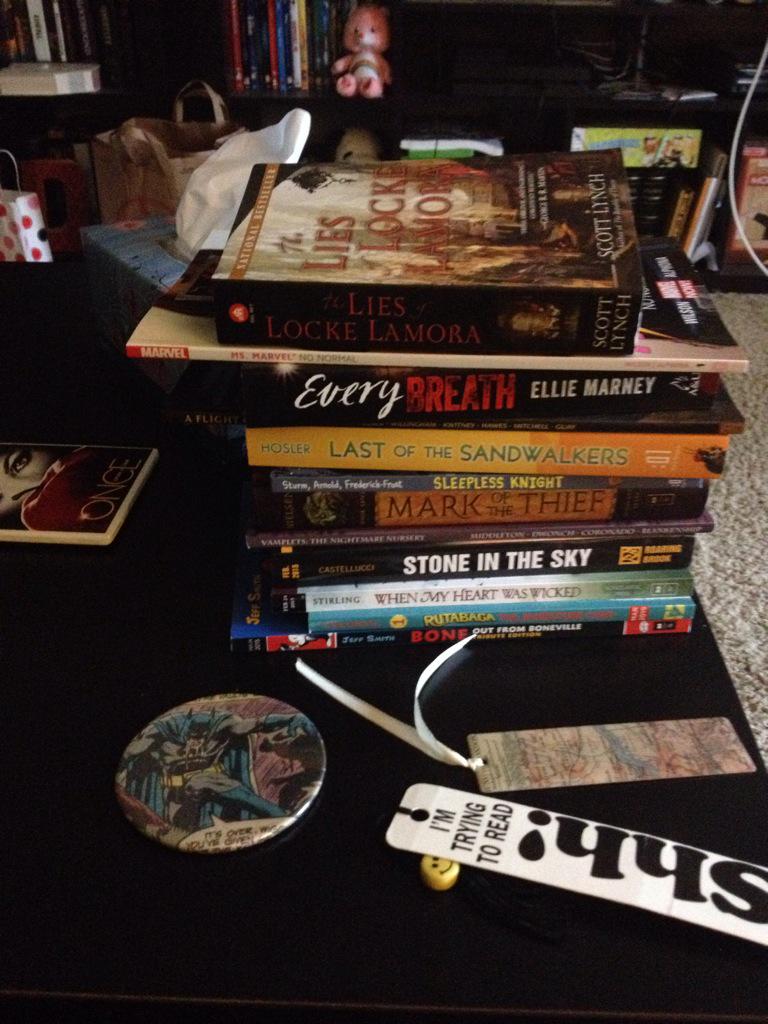 Mini-Challenges:
Hour 0: Intro Meme:
1) What fine part of the world are you reading from today? Illinois!
2) Which book in your stack are you most looking forward to? Ms Marvel v. 1
3) Which snack are you most looking forward to? Salted Caramels from Trader Joes!
4) Tell us a little something about yourself! I'm an elementary school librarian, but I'm reading for myself today, nothing related to my school's age level. (well maybe 1-2). I'm married but my husband works at night and sleeps during the day, so he won't bother me until he gets up at 5 pm.
5) If you participated in the last read-a-thon, what's one thing you'll do different today? If this is your first read-a-thon, what are you most looking forward to? I'm going to try and read more! I get hooked on mini-challenges and cheerleading, but I'm going to try to plop more and read. I'm ignoring cleaning until tomorrow and bought lots of easy to make food for today!
Hour 1: Classic Words of Wisdom, hosted by A Literary Odyssey: I'm a big fan of Oliver Twist and I remember loving this part in the book, because its the positive things in life that keep you going, not the negatives.
Hour 12: I'm on my fourth book – Mark of the Thief by Jennifer A. Nielsen
The hubby gets up soon so not sure what my reading will look like for the next couple of hours.
Mid-Event Survey
1. What are you reading right now? Mark of the Thief by Jennifer A. Nielsen
2. How many books have you read so far? Three
3. What book are you most looking forward to for the second half of the Read-a-thon? the one I'm reading now – Mark of the Thief
4. Have you had many interruptions? How did you deal with those? My sister called and we chatted for a half hour but other than cheering, not really.
5. What surprises you most about the Read-a-thon, so far? How much reading I'm doing even with cheering!
End of Event Meme
Which hour was most daunting for you? Hour 20/21 was when I fell asleep and I didn't really get up until the last half hour.
Could you list a few high-interest books that you think could keep a Reader engaged for next year? Any graphic novels are good for a readathon. I loved Vamplets and Sleepless Knight
Do you have any suggestions for how to improve the Read-a-thon next year? I think it runs wonderfully
What do you think worked really well in this year's Read-a-thon? I like the consistency…:)
How many books did you read? 3.5
What were the names of the books you read? The Lies of Locke Lamora, Vamplets, Sleepless Knight, Mark of the Thief
Which book did you enjoy most? Mark of the Thief
Which did you enjoy least? I guess Locke Lamora was a bit sludgy at times.
If you were a Cheerleader, do you have any advice for next year's Cheerleaders? Maybe making a twitter list if cheering there.
How likely are you to participate in the Read-a-thon again? What role would you be likely to take next time? One day I'm going to be one of the on-blog hosts… I consistently am a reader, cheerleader and mini-challenge host. I will participate every time unless there's some crazy engagement.
Kristen is the co-blog owner of The Book Monsters. Kristen is an Elementary School Library Media Specialist in the Chicago suburbs who loves reading. Why else would she be a librarian?