As a librarian, my favorite thing about Zita the Spacegirl is the series' wide appeal. As an adult, I absolutely love the illustrations, the storylines and the unique characters. I love that my boy readers are just as likely to pick this series up as my girl readers at my school.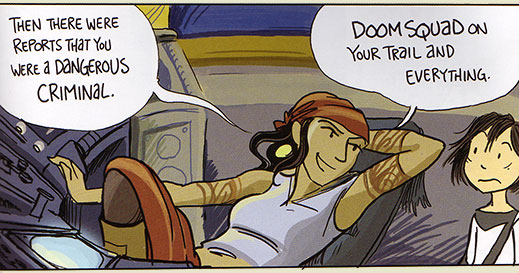 Beyond Zita, there are some amazing characters that really appeal to me as an adult. I absolutely love Madrigal, who is very much like a space pirate. There's even a bit of romantic tension between her and Piper that I'm sure younger readers won't pick up on as much as adults.
Pizzicato aka Mouse is another of my favorite characters, who communicates through the messages to Zita. He's a flying giant mouse and I love it! Mouse helps Zita out of a lot of binds and in the latest, she refuses to leave him behind when running from certain doom.
I gifted these books recently to my niece who is in second grade and she absolutely loved them. I think it's a series you could hand to anyone who loves graphic novels, whether they care for science fiction/fantasy or not.