I received this book for free from in exchange for an honest review. This does not affect my opinion of the book or the content of my review.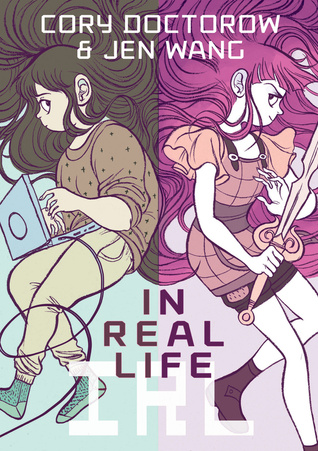 In Real LIfe
by
Cory Doctorow
,
Jen Wang
Published by
First Second
on October 14th 2014
Genres:
Graphic Novel
Pages:
196
Buy on Amazon
Goodreads
Anda loves Coarsegold Online, the massively-multiplayer role playing game that she spends most of her free time on. It's a place where she can be a leader, a fighter, a hero. It's a place where she can meet people from all over the world, and make friends. Gaming is, for Anda, entirely a good thing.

But things become a lot more complicated when Anda befriends a gold farmer - a poor Chinese kid whose avatar in the game illegally collects valuable objects and then sells them to players from developed countries with money to burn. This behavior is strictly against the rules in Coarsegold, but Anda soon comes to realize that questions of right and wrong are a lot less straightforward when a real person's real livelihood is at stake.

From acclaimed teen author and digerati bigwig Cory Doctorow and rising star cartoonist Jen Wang, In Real Life is a sensitive, thoughtful look at adolescence, gaming, poverty, and culture-clash.
In Real Life is a gorgeously drawn graphic novel. Jen Wang does a fantastic job and I loved that they made Anda a bit overweight in her character design. I loved Anda as a character, she's a teen who wants to belong and finds an gaming group of girls that makes her feel pretty awesome. The only problem is that this group is dedicated to getting rid of farming characters. It's bad for the game, but when Anda gets to know one of the farmer's, she realizes that these people are doing it for a job and in unfair circumstances.
I found this an interesting point of the story. Suddenly, the injustice overrides Anda's want to belong and she spends more time with this character, who is from China and his job is to farm on this game, something he'd like to play on his own time instead. His health is bad and Anda gives him an idea to stand up and gain some benefits at his job. Then he disappears and Anda worries over what happened to him.
This definitely wasn't the story I was expecting at first. It's more than just a story about a teen girl trying to find a place for herself, but about social justice and the things we sometimes take for granted in our country.
Verdict:
A beautifully designed graphic novel with a great story and morale ending.