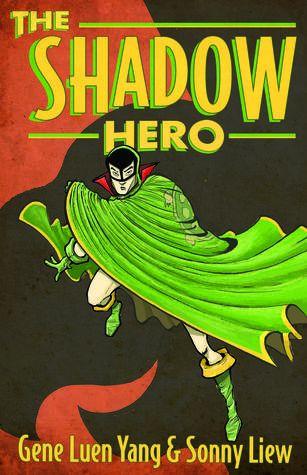 The Shadow Hero
by
Gene Luen Yang
,
Sonny Liew
Published by
First Second
on July 15th 2014
Genres:
Graphic Novel
Pages:
176
Buy on Amazon
Goodreads
In the comics boom of the 1940s, a legend was born: the Green Turtle. He solved crimes and fought injustice just like the other comics characters. But this mysterious masked crusader was hiding something more than your run-of-the-mill secret identity... The Green Turtle was the first Asian American super hero.

The comic had a short run before lapsing into obscurity, but the acclaimed author of "American Born Chinese," Gene Luen Yang, has finally revived this character in "Shadow Hero," a new graphic novel that creates an origin story for the Green Turtle.

With artwork by Sonny Liew, this gorgeous, funny comics adventure for teens is a new spin on the long, rich tradition of American comics lore
The Shadow Hero is a new comic that spins off of a 1940s comic called The Green Turtle. Hank is the main character, who wants nothing more than to take over the shop from his father when he gets older, but his mother has different ideas. When she is rescued from a criminal by a superhero, she realizes that is what her son should be. She makes him a costume and tries some very creative ways to try to give him superpowers. Unfortunately, he's just normal and fails a bit at being a superhero. Unfortunately, his stunt leads to the money his father owes for protection not being enough and his father is killed, leaving Hank with a grudge to bear. He starts to train to become stronger so he can exact revenge on his father's killer.
Add in a bit of romance and a touch of cliche moments and I found The Shadow Hero to be one of the best graphic novels I have read in a while. I love the originality and the story line, including the heritage of how Hank eventually gets a power, of sorts. I especially love his mother as a character. She's a sweet woman who is only trying to do what is best for her son and everything goes wrong. She speaks her mind freely and feels openly.
I admire that they managed to write in other strong female characters into The Shadow Hero as well. The love interest is the daughter of Ten Grand, who rules the underground in Chinatown. She has mad fighting skills and actually fights better than Hank when they first meet earlier in the story. I love their interactions when they finally meet again and the way she seems charmed by his somewhat shy and awkward ways.
Verdict:
The Shadow Hero is truly a newly recreated story that tells a marvelous story and featuring an Asian American hero that you won't forget.