I received this book for free from in exchange for an honest review. This does not affect my opinion of the book or the content of my review.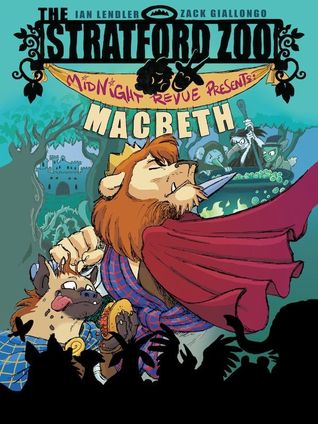 The Stratford Zoo Midnight Revue Presents Macbeth
by
Ian Lendler
Published by
First Second
on September 30th 2014
Genres:
Graphic Novel
Pages:
80
Buy on Amazon
Goodreads
The Stratford Zoo looks like a normal zoo... until the gates shut at night. That's when the animals come out of their cages to stage elaborate performances of Shakespeare's greatest works. They might not be the most accomplished thespians, but they've got what counts: heart. Also fangs, feathers, scales, and tails, in The Stratford Zoo Midnight Revue Presents Macbeth. Ian Lendler's hilarious tale of after-hours animal stagecraft is perfectly paired with the adorable, accessible artwork of Zack Giallongo (Broxo, Ewoks). And with Romeo and Juliet coming in book two, this is a promising new series of graphic novels for young readers.
The Stratford Zoo Midnight Revue Presents Macbeth is one of the funniest books I read this summer. A zoo at night turns into a theatre production and produces different Shakespearean plays. Macbeth is a well-known one and I've read it and seen several versions of it in the past. The funniest part was all of the ketchup references throughout the book. Instead of killing characters, the lion who plays Macbeth "eats" his problems and happens to have some stomach problems because of it.
The artwork of the book is spectacular. I loved the different expressions of the animals in the audience and of the main characters. I really hope this will become a series of books where each book covers a different play. I think it read fantastically as a graphic novel and I will probably end up rereading this one several times because I enjoyed it so much.
Verdict:
Shakespeare at it's best, filled with humor, great characters and even more amazing graphics.