Monstrous Discoveries is a feature that mentions books that we have discovered through our sidetracking excursions around the web. While our bookshelves really are not never ending, it is always exciting to share the books we would add if it was. Based off of Breaking the Spine's Waiting on Wednesday.
Never Ever by Sara Saedi
Releases: June 21st 2016
Wylie Dalton didn't believe in fairy tales or love at first sight.

Then she met a real-life Peter Pan.

When Wylie encounters Phinn—confident, mature, and devastatingly handsome—at a party the night before her brother goes to juvie, she can't believe how fast she falls for him. And that's before he shows her how to fly.

Soon Wylie and her brothers find themselves whisked away to a mysterious tropical island off the coast of New York City where nobody ages beyond seventeen and life is a constant party. Wylie's in heaven: now her brother won't go to jail and she can escape her over-scheduled life with all its woes and responsibilities—permanently.

But the deeper Wylie falls for Phinn, the more she begins to discover has been kept from her and her brothers. Somebody on the island has been lying to her, but the truth can't stay hidden forever.
Tell the Wind & Fire by Sarah Rees Brennan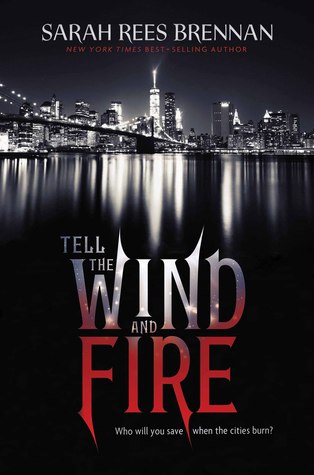 Releases: April 15th 2016
Tell the Wind & Fire is about a young girl called Lucie who lives in a New York very different from the New York we know: the city is torn between two very different kinds of magic, and Lucie's own family was torn apart years ago by that conflict. Lucie wears magic rings and carries a burden of guilt she can't share with anyone.

The light in her life is her sweetheart boyfriend Ethan, but it turns out Ethan has a secret too: a soulless doppelganger created by dark magic, who has to conceal the face identical to Ethan's with a hood fastened by a collar nobody but a Light magician with magical rings can take off… and who introduces himself to both of them by, for reasons nobody can understand, saving Ethan's life…
The Charmed Children of Rookskill Castle by Janet Fox
Releases: March 15th 2016
Something is not right at Rookskill Castle, a rundown Scottish manor shrouded in mystery. The castle is a temporary boarding school for children escaping the Blitz, but soon it's clear there is something terribly wrong. There are clues hinting that a spy is in the house, and there are undeniable signs of a sinister magic. When the children in the castle's temporary boarding school begin disappearing one by one, it's a race against the clock for twelve-year-old Kat Bateson, her two younger siblings, and their new best friend.
That's it for us, monsters. Got any great discoveries that you wanna share?
Kristen is the co-blog owner of The Book Monsters. Kristen is an Elementary School Library Media Specialist in the Chicago suburbs who loves reading. Why else would she be a librarian?