I received this book for free from in exchange for an honest review. This does not affect my opinion of the book or the content of my review.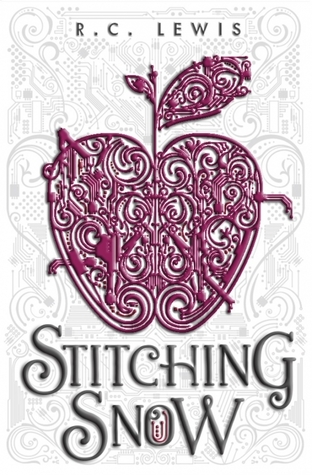 Stitching Snow
by
R.C. Lewis
Published by
Disney-Hyperion
on October 14th 2014
Pages:
336
Buy on Amazon
Goodreads
Princess Snow is missing.

Her home planet is filled with violence and corruption at the hands of King Matthias and his wife as they attempt to punish her captors. The king will stop at nothing to get his beloved daughter back-but that's assuming she wants to return at all.

Essie has grown used to being cold. Temperatures on the planet Thanda are always sub-zero, and she fills her days with coding and repairs for the seven loyal drones that run the local mines.

When a mysterious young man named Dane crash-lands near her home, Essie agrees to help the pilot repair his ship. But soon she realizes that Dane's arrival was far from accidental, and she's pulled into the heart of a war she's risked everything to avoid.

In her enthralling debut, R.C. Lewis weaves the tale of a princess on the run from painful secrets . . . and a poisonous queen. With the galaxy's future-and her own-in jeopardy, Essie must choose who to trust in a fiery fight for survival.
Kristen and I love to talk about books with each other. What she is reading. What I am reading. What we think the other needs to be reading. When we both are reading or have read the same book, that is when the fun really happens. These are our book conversations…
Kristen: What do you want to talk about first? Plot, characters…
Kate: Hmm
Kristen: First off, I know Stitching Snow will get compared to Cinder a lot, but I felt like it was way different.
Kate: Oh, I know it will. But at least they were different fairy tales bases.  Snow White vs. Cinderella (plus all the Selene mythology – aka Sailor Moon mythology). I loved that Cinder was a cyborg, and her skills. However, meeting Essie and the robots of Stitching Snow made me realize how inferior Cinder and robot connection was. Plus, how much more bad ass Essie is.
Kristen: Plus, I liked that it had a lot of the imagery from the old tales such as the apple, being the only girl in the town, being good with one type of thing (robots as opposed to animals). Then, there's the poison and the huntsmen character.
Kate: Yes, yes! It was all so perfect.
Kristen: I agree, I loved how quickly you see the fierceness of Essie, our main character.
Kate: I loved Cinder… like to pieces… BUT I feel like it was almost too much Sailor Moon mythology, and not enough Cinderella. But then again, with Stitching Snow we are getting just one main story. I like the other characters in the Lunar Chronicles, but sometimes it just feels sooo drawn out. Cinder's story (the first story) still has not had a resolution, and we are now three books in with more on the way. Without a solid resolution in sight.
Kristen: I agree, I think that Stitching Snow is a solid standalone, which is a nice break. I feel like every book I read is part of some new series.
Kate: Do you think Stitching Snow is going to stay a standalone?
Kristen: I hope so, it had a happily ever after ending, but there is more you could do with it.
Kate: I have a feeling it may end up a series.
Kristen: The story could be stretched further, but there would have to be a new enemy introduced.
Kate: Do you have any major gripes about the book?
Kristen: No, quite the opposite, I was so overly pleased with the Stitching Snow, I can't find anything wrong. I loved everything from the realness of the relationship to the awesome characters – especially Cusser and Dimwit the robots. I also enjoyed the setup of Essie being a tough girl – her background and attitude suit her.
Kate: I loved the robots as well – they added so much extra humor and personality to the story.
Kristen: I especially love how Essie seemed to mistreat Dimwit at the beginning and then came to understand him better towards the end. I found it gratifying to have a protagonist who has skills beyond being just a pretty girl or princess. Or even just being badass – she has her stitching skills that get her out a lot of binds.
Kate: What I liked about Essie is that with her skills and attitude, she made sense as a character.
*Kristen then went on a rant about Throne of Glass and how horrible the main character was setup and the atrocity that is that book.*
Kate: You are never going to forgive that book are you?
Kristen: Nope, now back to talking about a much BETTER book – Stitching Snow. Let's talk about the romance now. If anything, I felt like the love interest Dane was more of the pretty face this time. I like that Essie seemed like a more solid character and it made sense for her to act as she did.
Kate: I have to agree with your pretty boy assessment. I think Dane was strong in his own way… but he was also like pretty wallpaper.
Kristen: Wasn't it also nice to have a character that did not go for the guy right off? She's bothered by Dane's sudden presence and he's messing up her idea of life. He did also kidnap her, which made her even more determined to dislike him, until she found out more about him.
Kate: Well, we had to get her off that planet somehow.
Kristen: I like the way that she retaliated against him after being kidnapped and was weary of him.
Kate: I liked the romance and I liked Dane, but I don't think it would have made much of difference if he didn't exist. He had a good, supporting role that was consistent, but he wasn't the focus of the story. It was Essie's story and her story alone.
Kristen: Yes! Exactly, the focus was her not the romance. I do admire Dane for telling Essie that he would take everything at her pace, not forcing anything on her.
Kate: Dane was a no pressure, genuine guy but also integral to her survival at the palace but giving her enough space to do what she planned to do there.
Kristen: It's nice to see a strong female lead that is strong enough that her counterpart trusts her. I think his background was fitting and he really was a support and didn't encroach on the story as a whole.
Kate: I agree. Everything with him, added to her story.. her goal.. it was about him, but also about her and making everything move forward. Stitching Snow has to be the most fluid story I have come across in a long time. All the elements worked together, each piece added to the next in way that made sense and added to the overall picture.
Kristen: Stitching Snow also had enough excitement and build up to keep you turning the page. Even the downtime was about building relationships or learning backstory and didn't feel like it was so long.
The Book Monster Verdict:
We both absolutely adored this one. Fantastic retelling with a kick ass heroine who doesn't need a guy to make her "better." Highly recommend.
Join in on the conversation, have you read Stitching Snow? What were your thoughts?